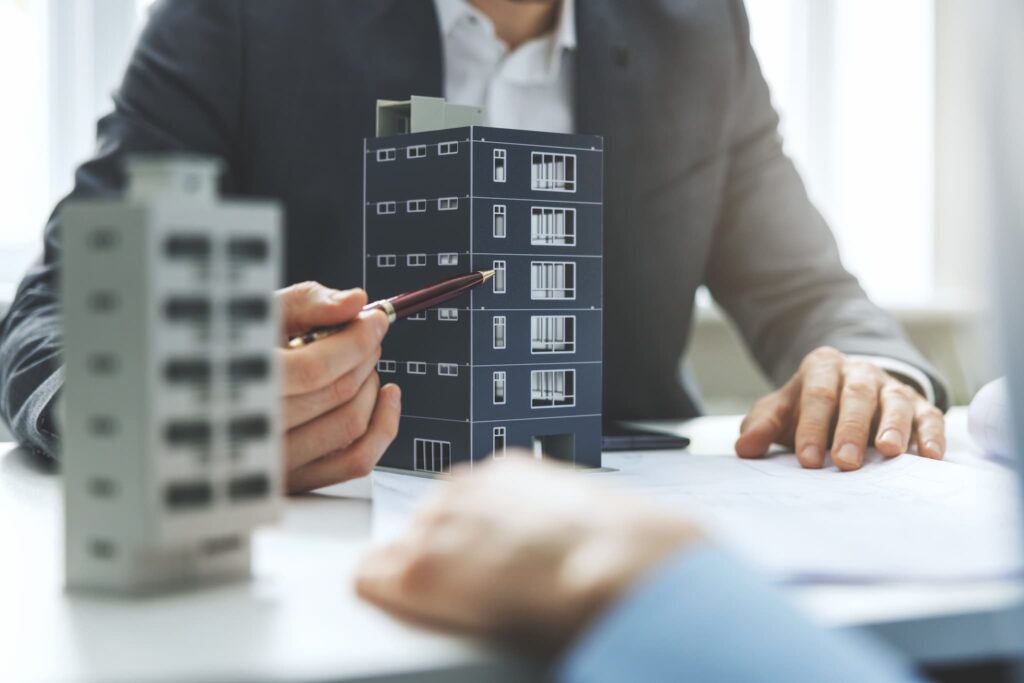 With the demand for various forms of commercial property in Maryland and surrounding areas still strong and positive, commercial development is an attractive investment option.

Are you looking for a commercial real estate property developer you can work with to design and construct commercial properties in Washington County, Maryland? Bowman Development provides premium commercial property development and contracting services for projects of all types and sizes. Contact us today and let us help with your commercial real estate property development project.
What is Commercial Real Estate Development?
Commercial real estate development refers to the process in which a developer sources raw pieces of land/property and develops them into commercially oriented properties that can be rented out for commercial purposes. Our commercial development services include the development of office space, rental properties, restaurants/ lounges, truck parking, retail spaces, and warehouse spaces.

Commercial development projects may involve property acquisition, designing construction plans, managing the ground-up construction, and navigating the project costs. Commercial property development is typically complex and multifaceted.
What Is the Commercial Real Estate Development Process? 
The commercial real estate development process aims to maximize the value of a commercial property by making tangible improvements to the property. The commercial real estate development process involves several steps and significant time, energy, and capital investment to ensure the success of a project. The process involves the following stages:
Site Selection
The first step is to source the right property or land for development in the right location. The success or failure of a project depends on the site selection.
Feasibility Studies
Before a commercial real estate development project can begin, feasibility studies are carried out to determine the viability of the potential project. This entails carrying out due diligence, performing a predictive analysis of the project's success, and assessing the different factors impacting the project.
Design And Planning
The design phase involves working with architects and engineers to develop a design that meets your needs. In addition, the selection of materials, determination of construction costs, and the drafting of a budget for the commercial development project are made during the planning phase.
Financing
The financing stage involves securing financing for the commercial real estate development project. Depending on the project's capital stack, financing sources like private equity, bank debt, government loans, and commercial property-backed mortgages can be tapped into.
Construction
The actual development or improvement of the property takes place during the construction stage of the commercial real estate development process.
Leasing
During the leasing stage, the leasing team coordinates the marketing of the commercial property to ideal customers. Pre-leasing activities and contract negotiations follow this.

Our team of professionals is well-experienced and highly skilled in design, construction, acquisition, property management, finance, and business development. Check out some of the properties we have available for lease. 
Property Management
The commercial property must be managed and kept in good condition to ensure its ongoing success. The property management stage follows the leasing stage.
How Do Commercial Property Services Benefit You
Some of the benefits of hiring a developer that specializes in commercial property development and contracting, like Bowman Development, include:
Accurate Pricing
When you hire a seasoned developer specializing in commercial property development, you get cost estimates that you can rely on. Being well-informed about project costs helps prevent financial strains and frees up your cash flow as an investor.
Quality Service 
When you work with a respectable developer, the quality of service you are receiving is guaranteed. When it comes to materials, a respectable developer will only use the highest quality so as to deliver the best results.
Project Completion
You benefit from time savings when you work with a professional with a solid track record of project completion. A professional who understands how to meet deadlines will strive to complete every detail of your project within the provided timeline.
Compliance
Keeping in mind that commercial real estate development projects require a lot of approvals and licenses, we are aware of regulatory requirements and have decades of experience working with local municipalities to make this process as expedient as possible. 
Networks
You, as an investor, can benefit greatly from working with a professional who is constantly networking with the movers and shakers in the commercial real estate market. Working with us entitles you to take advantage of our vast connections in the commercial real estate market.    
Let Bowman Development Handle the Complexities of Commercial Property Development and Contracting for You
 Are you considering investing in a commercial development project in Maryland and surrounding areas? Bowman Development is the premier real estate developer in Maryland's Washington County region. Let us handle the complexities of commercial property development and contracting for you. For more information on how to start reaping the benefits of our commercial property development and contracting services, contact us today.
Image Source: Ronstik / Shutterstock